Customer review
Andorra
95 Number of reviews:
95 % Recommendation rate:
Ski holidays
Andorra
The mini state of Andorra offers a ski area in the Pyrenees that is anything but small: Grandvalira is in fact Europe's largest ski area outside the Alps! Andorra, between its large neighbours France and Spain, is not to be overlooked. Even though Andorra only has two ski areas to offer, these areas offer first-class skiing fun. In addition, Andorra is well-known for its great shopping. Every year streams of shopping tourists make Andorra their destination of choice, bringing along a great source of income for the tax-free country. This money, in turn, is invested in the winter sports infrastructure and other leisure centres such as spas and ice skating rinks, which means that Andorra has much to offer on and off the piste. Two large ski areas have therefore been established, which are sure to impress you!


Why book ski holidays in Andorra?
Andorra might not be your first thought when you are planning your skiing holiday in Europe. This might be a mistake. The mini state Andorra offers amazing skiing and snowboarding areas. Whether you are with your friends or family you will find the right slope and activity for you.
Although Andorra is one of the smallest independent states in Europe and not as well-known as a skiing destination as other countries are, it has some advantages. The slopes are excellently maintained and belong to the most modern in the world. Skiing areas in Andorra offer awesome beginner and early intermediate terrain as well as some good off-piste areas.


Where to go skiing in Andorra?
As there are just two skiing resorts the choice isn't the biggest. But both areas offer awesome skiing opportunities. So why not spend your skiing holiday in Pas de la Casa or Soldeu which are both located in Grandvalira. The link between these two areas in Grandvalira makes it Europe's largest ski area outside the Alps. In the beginning there some small ski areas existed. Later these became the two large ski areas in Andorra. After their fusion Ordino-Arcalis and Pal-Arsinal became Valnord, a nice skiing area offering 91 kilometers of piste. Grandvalira is Encamp, Soldeu-El Tarter and Pas de la Casa-Grau Roig. When the resorts in Grandvalira were connected they formed Europe's largest ski area outside the Alps with 210 kilometres of pistes. Grandvalira is therefore bigger, well connected and offers more ski runs.

Soldeu is the best place to explore the vast Grandvalira area which is shared with different ski bases. Soldeu's symbolises "sun god" and yes, it is sunny! But snow quality is also really good as most slopes are north-facing. Snow reliability is better than expected.

Snowboarders will feel like home in Andorras's skiing area Soldeu. It is where you find the best terrain parks in the Pyrenees. The ski area is not only a good place for experts but also offers nice beginner slopes as well as great off-piste terrain. Off-Piste terrain can be found for example in Arcalis which offers steep terrain. Best tree-skiing is to be found in Pal. Located at an altitude of 2,100 m the sunny resort Pas de la Casa is offers direct access to the pistes. After skiing it is well known for its bargain beer and wild nightlife. But first you have to earn your beer on the slopes and tracks which are various! There are also trails for beginners as well as experts in Saint Juliá de Lòria and in La Rabassa.


What else can you do in your ski holidays in Andorra?
A skiing holiday is all about skiing and snowboarding. That's right for sure but you can keep in your head that there are a lot more possibilities to enjoy your skiing holiday in an active way even in the small state of Andorra. One of these activities is Cross-country Skiing. Andorra is a great place for Cross-country Skiing because you can find numerous tracks surrounding the resort Grau Roig and also in the resort Pas de la Casa. Grau Roig is recommended to the more experienced cross country skiers.

Another possibility to spend your day is snowshoe hiking, which is very popular in Andorra for enjoying the fantastic nature and beauty of the Pyrenees. Tourists that love dogs will be thrilled by doing mushing (dog sledding). Speed lovers will like the opportunity of racing through the endless white with snowmobiles. Families might want to tray snow tubing or ice-skating in their skiing holiday – which is fun for the whole family. Another great family activity is spending the day in "Naturlandia" park full of nature and wildlife.The mountains are not high enough? You want to breathe the air above and fly over the mountains? Then take a balloon ride! It is fun and you will enjoy amazing views over the Pyrenees and Andorra.

After mentioning the bargain beer and party the big amount of après-ski opportunities should not be forgotten. Many bars, pubs, nightclubs and discos are located in Soldeu, Pas de la Casa, Canillo and also in Encamp. The choice is yours! If you like to go shopping, Andorra is the place to be! Getting some bargains during your skiing holiday and bringing them back home along with all your unforgettable skiing memories can be a satisfying feeling. Andorra is a duty-free area. This means it offers great bargain prices for spirits, tobacco and cosmetics.After spending the whole day on the slopes you might be exhausted. This is when "Caldea" in Andorra-la-Vella is the place to be! Caldea is only Europe's largest spa and wellness institution and you can find any possible way to relax and recover from skiing or snowboarding.
Regions Andorra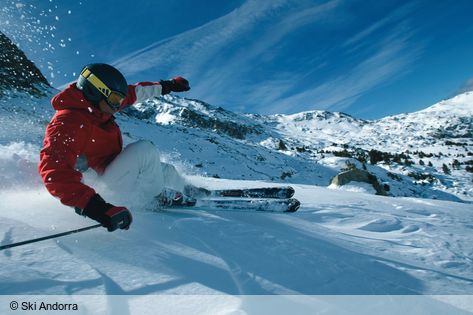 Grandvalira
By linking the areas Pas de la Casa/Grau Roig and Soldeu/El Tarter, Grandvalira solidified its claim as Europe's largest ski area outside the Alps. Whether you are looking to spend your time on the broad pistes or prefer to find adventure off-piste, you'll get your chance in Grandvalira.
Resorts Andorra
Resort (region)
Pistes
Ski area altitude


from

–

up to

210 km
1,710 - 2,640 m
210 km
1,710 - 2,640 m
210 km
1,710 - 2,640 m
210 km
1,710 - 2,640 m
210 km
1,710 - 2,640 m
210 km
1,710 - 2,640 m
210 km
1,710 - 2,640 m