Customer review
Canada
NEW!
No reviews available yet.
Ski holidays
Canada
Clear pistes, boundless ski areas, and Champagne powder - Canada gives winter sports a whole new meaning. Whether it's wide curves on the magnificent pistes, speedy runs through the forest, catskiing or heliskiing, everyone gets their money's worth. Next to the unique, mountainous landscape, Canada shows off especially with its rustic cosiness and hospitality. "Canada" means easy-going and a sprightly zest for life! And even off-piste, the land, with its breathtaking landscapes and national parks, shares the same motto.


Why book ski holidays in Canada?
Canada is the dream destination for outdoor-lovers, especially skiers and snowboarders. Its unbelievably stunning nature and surreal beauty makes it a truly unique place, not to mention the incredible feeling of freedom you get when taking in its vastness. The snow quality is what really makes Canada the hotspot for winter sports fans. The world-famous, so-called "Champagne powder" can be found and experienced in Canada. This dry, light, fluffy and deep snow is like no other, and there's plenty of it around as it's frequently snowing in Canada! Whistler is usually gifted with more than ten meters of snow annually.

Furthermore, even in famous ski areas like Whistler, skiers and boarders will find uncrowded pistes and virtually no limit. Imagine, just you and your friends, the breathtaking nature and heaps of snow! The nature in Canada is incomparable. Gorgeous lakes, impressive national parks and majestic mountains will blow you away, and let's not forget the local wildlife – you might even meet a bear or moose during your holiday! Make sure to visit one of the many national parks during your ski holiday – even if it is hard to leave your skis and boards at home for a day.


What is so special about ski holidays in Canada?
Canada's ski areas, not unlike those in the United States, are not only huge, but offer amazing off-piste terrain alongside well-prepared pistes, of which belongs to the ski area and is therefore safety-controlled. There are many pistes that are well-prepared daily, but the real challenge are those natural powder runs, and the main reason you'll want to spend your ski holiday in Canada. Furthermore, tree skiing is not only permitted, but popular in Canada. This provides you with a natural slalom course that is ever-changing.

Cliffs, bowls, amazing drops and tree skiing runs are all legally accessible in Canada. The best runs, though, are for those who choose to try out the Canadian mountains' highlight: heliskiing. Although this activity is rather pricey, it opens up an amazing new world for skiers and snowboarders: untouched terrain, extreme steep runs and first lines through deep powder. With heliskiing, many square kilometres of fresh powder snow is exclusively accessible for just a small group - truly an unforgettable experience. This luxury activity is very popular in Canada and be sure to take note that heliskiing operators can be found near the main ski resorts, like Whistler. So, if you're up for it, spend a few days warming up on the pistes in the ski area and afterwards, take on the adventure of a lifetime! Catskiing is also a good alternative to reach untouched terrain. Catskiing is also fairly popular in Canada and is not only less expensive than heliskiing, but also more eco-friendly. Snowcats bring you up the mountain to access the most beautiful places and amazing powder runs.


Where to go skiing in Canada?
There are a lot of amazing ski resorts in Canada, with most of them being located in Alberta or British Columbia. The most popular, largest ski area in North America is Whistler, which is located in British Columbia. Whistler was the venue of the 2010 Winter Olympics, but this is not the main reason it's so popular. Whistler is located two driving hours north-east of Vancouver and consists of two ski areas: Whistler Mountain and Whistler Blackcomb. The ski area Whistler Blackcomb offers an amazing 33 square kilometres of truly legendary terrain. Additionally, it's very snow-sure and that's why you'll find early season opening dates as well as the longest ski season in Canada.

During the 2015/2016 winter season, Whistler celebrated its 50th anniversary of Whistler Blackcomb. This time-tested ski resort has to be visited by skiers and snowboarders at least once in their lifetime, as whistler really has it all: terrain, snow, excellent restaurants and bars, shops, tons of events and accommodation for everyone. The ski area Whistler Blackcomb has a very long season, extending until May or even June. On the Blackcomb glacier, skiing is also possible during the summer. Throughout the ski season, conditions are snow-sure and the snow quality is fantastic.


How long can you ski in Canada?
The ski area Blackcombe characterised itself by its long skiing season, which can extend into May or even into June. On the Blackcombe glacier skiing is even possible in the summer. Across the entire winter season, reliability for snow is given and the conditions are generally fantastic.


What else can you do during your ski holiday in Canada?
In Whistler, you can choose from a large selection of possible activities such as dog sledding, zip lining or snowmobile tours. Adrenaline junkies can even try bungee jumping. On the other hand, the perfect way to relax and recover after skiing can be found in the "Scandinavie Spa." As previously mentioned, a visit to one of the national parks should certainly be on your list of things to do during your ski holiday as the incredible natural landscapes are surely not to be missed. Another option is a trip to the city, as tourists may have to do a stopover anyway. Vancouver's multicultural flair, Calgary's culinary delights or Montreal's unique culture are worth checking out during your down time.
Regions Canada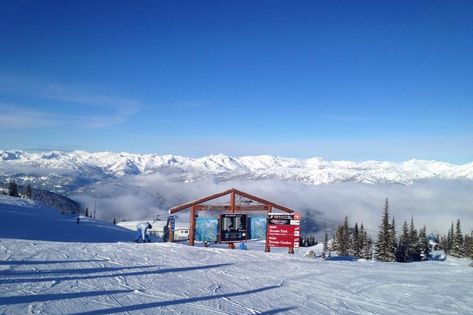 Vancouver
Vancouver is, without a doubt, one of the most beautiful and diverse cities in Canada, possibly due to the fact that the Coast Mountains and the Pacific meet exactly here. Located on the western coast of Canada, this city is the perfect starting position for trips to Whistler, where in 2010 the Olympic Winter Games tool places. The well-known ski resort is situated at the foot of the Whistler and the Blackcomb Mountains, at 670 m altitude. With 33 km², this terrain is known as the largest ski area in Canada and boasts an average of 10 m snow per season. In this diverse ski area, there is something for everyone: pleasure skiers and boarders, as well as freeriders and extreme skiers will find what they are looking for. Further, the region offers ideal conditions for families.