Customer review
Sweden
8 Number of reviews:
100 % Recommendation rate:
Ski holidays
Sweden
Sweden: the land of Pippi Longstocking and known to be the country with the largest elk population in Europe - a real winter sports paradise. Various ice periods have formed the country to its present appearance. The huge Scandinavian glaciers of the last cold spell made way for Sweden's unique lakes, rivers and waterfalls. For classic winter sports such as cross-country and downhill skiing, Sweden offers ideal conditions. It's no wonder that the Alpine Ski World Championship was held in Åre in 2007.


Why book your ski holiday in Sweden?
There are plenty of reasons to go to Sweden. The Swedes are well-known for their sauna culture, with the traditional sauna called a "bastu" (from 'badstuga' = bath house). You can probably find a sauna in just about any village, so relaxing in the pleasant heat and cooling down in the snow afterwards is certainly possible and not worth missing.

Sweden is also famous for its laid-back mentality and due to the small population, there is plenty of space for everyone, which is evident even in the ski resorts. Another advantage are the snow conditions. Even though you'll find higher peaks in other skiing areas, Sweden is privileged when it comes to cold winters due to its northern positioning. Winter is colder and longer over here! Enjoy a real Swedish experience - many villages offer to meet the indigenous people and share dinner with them. The Sami folk used to be semi-nomadic people. Also, you've probably heard of dog sledding, but in Sweden, you can try reindeer sledding.


Where to go skiing in Sweden?
There are plenty of destinations in the Scandinavian Mountains, or Scandes, to go skiing. The mountain ranges run along the Norwegian border from Sweden's South to its North. The skiing areas are separated into three different regions. In northern Sweden, you can find familiar villages offering up to 30 km of pistes such as Hemavan. From 454 m up to 1,119 m altitude, beginners, as well as experts, find the right slopes fitting their skiing level. In the heart of Sweden, the most popular skiing resorts are located, for example, in Åre, which offers approx. 91 km of prepared slopes and provides 37 lifts.

If you're looking for further variety, there is another ski area not far from there called Duved, which has another 20 km of slopes to offer. Another highlight is the cosy town of Idre Fjäll. This very family friendly resort that has a lot to offer the little ones, with four specifically designated children areas on the slopes, giving kids the chance to learn skiing in a suitable environment. In southern Sweden, there are further ski resorts available with up to 23 km of pistes such as Branäs. Did you know that some smaller skiing facilities are located not too far away from Stockholm and that you can easily access them? How about a daytrip of skiing?


Why is Sweden popular for cross country?
Since Sweden is fortunate to have plenty of snow and cold weather even in the lower altitudes, there is a wide range of cross-country facilities available. Most of the skiing areas offer great cross-country runs. The term "Nordic Skiing" isn't without meaning. Scandinavian countries are the origins of winter sports! The Swedes used cross-country skis as means of transport in earlier times. A lot of champions have been born in Sweden, which should not come as a surprise due to the fact that they are surrounded by the perfect conditions to exercise. So, if you're a fan of cross-country skiing, come to Sweden and experience it for yourself!
Regions Sweden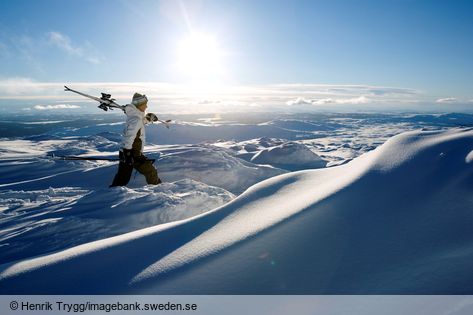 Central Sweden
The historic province Dalarna is located in Central Sweden and borders with Norway and the Swedish mountains in the West. This region is known as one of the most traditional in entire Sweden. The Dala horse, a small wooden carved horse, is one of the most popular souvenirs from Sweden and derives from Dalarna. Red wooden houses, glistening lakes, deep woods and hilly landscapes form these wonderful surroundings. Nature and culture fans, as well as activity travellers, will love this area. The West, for instance, is dominates by the "Fjälls" (mountains above the boreal tree line) and is home to some of the most popular winter sports centres in Sweden.
Resorts Sweden
Resort (region)
Pistes
Ski area altitude


from

–

up to

41 km
588 - 890 m