Styria - "Cross-country-trail Quality Seal of Styria"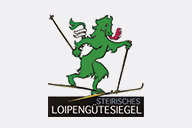 Guaranteed cross-country skiing quality awaits winter sports fans in Styria under the "Steiermärkische Loipengütesiegel" (Cross-country-trail Quality Seal Styria). The seal can only be awarded with regards to the state-specific criteria and only from the state government of Styria. These criteria include e.g. reliability for snow, perfectly prepared trails including skating-style tracks, security measures and a respective infrastructure.

The Styrian Quality Seal is awarded to the trail operator for a duration of 3 years, once the criteria are fulfilled. The operator therefore ensures that the meeting of the criteria is upheld for the entire duration of the seal period. Should massive changes occur, an annual inspection evaluates if all criteria are still correctly met.
Criteria for Cross-country Quality Seal
Which criteria have to be fulfilled to be awarded the seal?
At least one classic- and one skating-style trail
Total trail coverage of at least 5 km and at least 4-6 m wide
Sign-posting with km notifiers, running direction, skill markings (easy - intermediate - difficult)
Secured areas around pistes and danger zones, danger notifiers and padded crash areas
Permanent, or immediate preparation upon weather change
Track setting machine requires a mill
Respective infrastructure at the start and end points of the trails
Panorama view board with complete track network (prepared and closed trails), levels of difficulty, trail and altitude profiles, temperature notifier, ski hire along the trails or in the resort, sufficient parking spaces
Medical facilities
Reliability for snow for at least 60 days
Overview of resort with Cross-country Quality Seal
resort
Cross-country track km
Nights
from
17.3 km
3 - 7

€174

73 km

Unavailable

18 km

Unavailable

220 km
2 - 10

€274

26 km
3 - 7

€321